Drinking Water, Reverse Osmosis
Overview
Reverse Osmosis (R.O.) was developed in the 1950s and is considered as one of the major achievements of the water purification industry.
An R.O. must be fed with de-chlorinated, softened and filtered water to best optimize its performance.
R.O. has the ability to remove a very wide spectrum of impurities from water, while consuming minimal energy. With the exception of distillation, R.O. is the only known process which can remove all of the following classifications of impurities:
Particulate matter - Sediment, Rust, Scale, Silt, etc.

Colloidal matter - very fine suspended matter which does settle out in time.

Dissolved salts

Bacteria

Viruses

Pyrogens - Bacteria by-products

Organic molecules - With a molecular weight of over 200, such as Sugars, Proteins, Dyes, etc.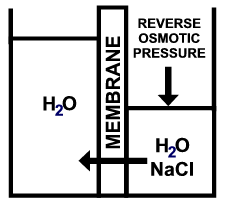 How an R.O. works
To bring an R.O. unit down to its basics, pressure is applied to the raw water via a pump and forces it through a semi permeable membrane. Pure water called permeate passes through the membrane and the impurities will remain on the other side. These impurities are washed to drain using some of the raw water, this is called concentrate. The ratio of permeate to concentrate is usually around 15%. To avoid excessive water wastage a portion of the concentrate is re-circulated back into the raw water feed, also on multi-membrane systems the concentrate of the first membrane becomes the raw water feed for the second and so on. To a commercial R.O. unit, flow and pressure indicators, conductivity probes, Control valves, C.I.P. points and programmable controllers are usually added.
Advantages of R.O. over D.I.
No hazardous chemicals consumed or stored.

No chemicals in effluent water.

Personnel not handling chemicals.

No problems with COSHH compliance.

No regeneration downtime.
---
Contact Us
For the full range of water filtration & treatment products throughout Kilkenny, Waterford, Tipperary, Kildare and Dublin.
Direct Water Treatment

Brittas, Tullaroan, Co.Kilkenny, Ireland.
Email:
directwater123@gmail.com
Tel:
056 77 69026
Mob:
087 238 5070